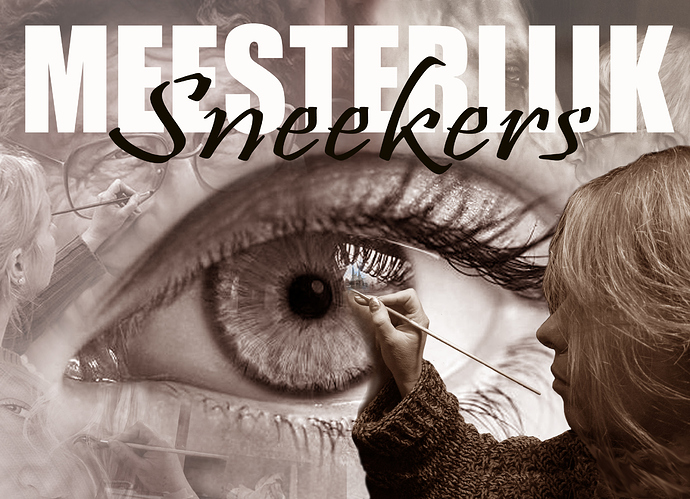 Meesterlijk Sneekers is a project initiated by the local artist Imke Meester for the Cultural Capital Leeuwarden in 2018. The theme of the Cultural Capital 2018 is 'Mienskip', which means 'community'.
Based on this theme Imke Meester organises an exhibition in which her goal is to make art more accessable to a larger audience by painting large portraits of famous people in the community. These people are wellknown thanks to who they are in stead of what they do.
During the exhibition Imke Meester designs a giant three dimensional sculpture of a face which she will built up from polaroids of selfies. The polaroids are as pixels in a picture.
Thanks to the portraits strangers will meet and create new acquaintances. They will also contribute to the broader appreciation and understanding of the importance of art in society. The selfie sculpture will attract younger people and stimulate repeating visits to the exhibition. The combination of the portraits and the sculpture stimulates contacts between generations.
Both art forms are highly interactive and provoke action by the visitors. Vistors interact and share their memories. In the book Meesterlijk Sneekers Afke Henni, a local writer, shares the stories of the portrayed and Imke Meesters' views on art and artwork.
The exhibitions' admittence is free. People are welcome from 1 to 30 September in Kunstencentrum Atrium in Sneek and from 1 October to 3 November at Rabobank Sneek. Books will be sold upon the opening of the exhibition.
Annemieke Steemers, Eventorganiser of Meesterlijk Sneekers
For information:
Facebook Meesterlijk Sneekers